Artificial Turf Services in Dothan, AL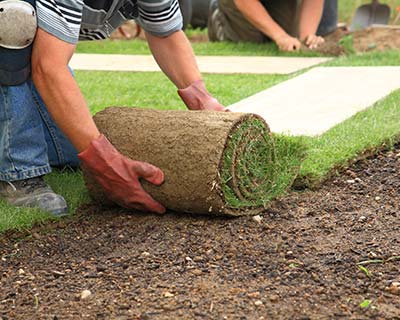 A green lawn makes a strong visual statement but maintaining natural grass all year isn't easy. Therefore, an increasing number of homeowners are turning to Dreamscape to design and establish artificial turf and putting greens in their backyard. We offer the ideal solution for your requirements, whether you are looking for low-maintenance lawns or a putting green where you can play mini-golf with family and guests.

Once you install our synthetic grass, you no longer have just to admire your neighbor's lawn and wonder why it always looks so great. We at Dreamscape Landscaping & Irrigation, LLC, are one of the most sought-after companies in the region. We handle commercial and residential grass installation in Dothan, FL.


The Benefits of Artificial Turf
Properly placed high-quality artificial grass helps both the business owner or homeowner and the planet in several ways. Here whys:


Low Maintenance Feature - Artificial grass does not need the kind of regular maintenance and care as natural grass. It stays in excellent condition with an occasional cleaning.
Improves Water Efficiency - If you live in an area where water is limited or want to reduce water use on your property, consider obtaining artificial grass since it does not need watering. You can set out on a month-long trip without worrying about the state of your lawn.
Green All-Year-Round - You do not have to worry about it looking shabby or dated because artificial grass does not develop brown or bare patches. Your lawn will look great in a snowy winter, a scorching summer, a rainy spring, or autumn.
Reduces Your Carbon Footprint - Studies show that lawns use significantly more pesticides than plantings in a landscape and at least percent of the water. You don't have to sacrifice the ecology to have a beautiful yard. Artificial grass not only saves water but also eliminates the need for pesticides.
Durable and Resilient - Artificial grass is designed to resist high traffic, making it an excellent surface for frequently trafficked areas like sports fields.
Long-lasting - You will be able to enjoy your synthetic grass lawns for many years without having to repair or replace them.
Superior Artificial Grass Installations
We have numerous years of expertise installing artificial grass. Having laid thousands and miles of synthetic turf, we know that establishing this type of lawn requires the most meticulous planning and execution. Ground stabilization, sub-base building, grass laying, and seaming are all steps that we must follow.

As a result, we follow the lengthier and more accurate process without cutting corners in any aspect. We can provide you with the simplest way of improving your swing with an artificial putting green installation on your property. We build high-quality putting greens that offer a tournament-style golf experience. You can practice putting and your short game whenever you want by installing putting greens in the quiet of your garden. Putting greens are perfect for practicing golf and a great space to entertain guests.


Synthetic Grass Installations at Low Cost
Because artificial putting greens don't need watering, weeding, fertilizing, aerating, trimming, or mowing, you can devote more time and effort to refining your golfing abilities instead of worrying about lawn upkeep. You will undoubtedly love the sight and feel of natural grass all year long with no maintenance.

We are well-known for providing high-quality landscape installations in Dothan, FL at reasonable prices. For additional information about our high-quality artificial grass and putting green services, please call Dreamscape Landscape & Irrigation at this number -

850-258-3800

. You can also send us your queries and requests via this Online Form, and one of our team members will contact you shortly to discuss your requirements.


We Provide Services to the Following Cities and Towns in FL & AL: