Landscape Design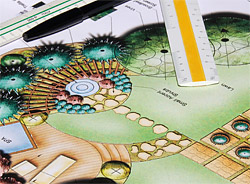 A well-planned landscape does not only increase the aesthetic appeal of your home, but also extends its usability and reduces energy costs by limiting solar gain and increasing ventilation. It provides you an outdoor space that you will enjoy for many years to come and it even increases the value of your property.

A great landscape design is the result of proper planning. Planning allows for coherent integration of different design elements, including plant materials, paving materials, landforms, and space.

Here at Dreamscape, that's what we do. First, we visualize; then, we realize.


Our Landscape Design Process
Every successful landscape design project starts with a plan. Planning enables us to reach a logical and organized framework for building a design solution that is consistent with your aesthetic vision and budget. It allows us to make use of your outdoor space in the best possible way.

We see landscape design as collaboration between the designer and the client. A successful design project is like the space where Venn circles meet: there is unity, integration, collaboration, and overlapping of different ideas.

We will work closely with you every step of the landscape design and building process to ensure you get the outdoor living space you have always dreamed of. In other words, we see you as an essential part of our landscape design team. We don't start a project until we have fully understood your needs and objectives.

Our design process includes the following steps: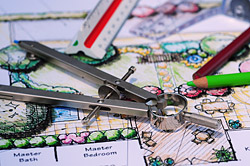 Client meeting. We discuss with you your needs, budget, preferences, and expectations. If you already have a landscape design concept in mind, it will help us expedite the design process. We are confident that once your landscape is completed, it will express your individual taste and personality.

During this stage, we also introduce you to the people who will work on your backyard as well as our fee schedule. We practice transparency right from the start so you will know just what to expect.


Information gathering and analysis. During this phase, we study and analyze your site to determine potential problems and constraints. We measure your site area, study your soil topography and the climate in your area, analyze existing vegetation, find out existing structures and landmass features, and the like.


Designing phase. Our designers will sit with you and together, we will address your landscape design considerations, including the features you want to include in your yard and your desired style and purpose for your yard. All things considered, we then draw the plan complete with proposed locations for hardscapes, softscapes (e.g. shrubs, trees), and other outdoor living features.


Why Choose Dreamscape?
Dreamscape is an established landscaping firm serving homes and businesses in Florida. We are comprised of landscape designers and installers who are committed to providing customers with personalized landscape design solutions that enhance their quality of living.

Our designers are experienced and skilled at solving problems involving spatial relationships. They understand thoroughly how the relationship between different elements impacts the final design.

Our services cover a wide range of design and construction projects, including driveways, retaining walls, ponds and waterfalls, and landscape lighting.

Please take a look at our online portfolio of completed projects to get an idea of how we can help. Better yet, give us a call. Our landscape design experts are pleased to answer any questions that you have.

We Provide Services to the Following Cities and Towns in FL & AL: