Hardscape Clean & Seal
Pavers will deteriorate no matter how well the installation was. Weeds, algae, mosses, lichens, and stains can never be prevented. But, a good maintenance routine will keep the hardscape in tip-top condition.

There's no need to spend your precious time and energy on scrubbing, brushing, and washing since you can depend on Dreamscape's hardscape maintenance services. Our hardscape clean and seal service will take care of that.


Hardscape Cleaning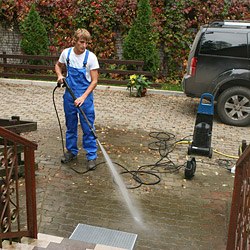 Years of negligence will turn the once elegant paved surface into a nasty sight. At Dreamscape, we do a variety of hardscape cleaning services to bring back the surface's lost beauty. Accordingly, we take care of these common problems:


Weeds. In between pavers are grouts filled with sand. The sand is a perfect site for annoying weeds, and it will only take a matter of time before the hardscape is completely invaded by weeds. Only routine brushing and industry-standard, safe weed killers will remove small weeds and disturb the emerging ones.


Algae. The greenish, slippery map-like areas on hardscapes may seem innocent; but, beware because they're not—they're algae! And they cannot only destroy the surface's beauty, but they can also pose health hazards. Accordingly, we remove them with specially formulated bleach.


Lichens. These are the black spots that are often mistaken as stains. Truth is, they're cousins of alga and fungus. We clean them up with wire brush and a safe cleaner.


Moss. This is worse than algae or lichens. But, we can take care of them effectively with sweeping, brushing, and moss killers.


The things mentioned above can cause stains, but real stains like grease, oil, dirt, wine, bleach, and others have to be managed differently.

We highly recommend power washing after removing stains, moss, lichens, algae, and weeds. This can make a very dramatic change on the hardscape. But we don't use just any power washer that's common in Florida households. We have the most sophisticated one that provides the best effect. Not anyone can handle this, though. Only our trained men can use such a killer machine effectively.


Hardscape Sealing
Hardscape sealing is best done after the tedious hardscape cleaning. Simply put, sealing is prevention. Once sealed, stains, algae, weeds, and the like will have a hard time penetrating and invading the surface, leaving it tidy and beautiful for the longest time. This will, therefore, be the more cost-efficient choice because the regularity of cleaning will be trimmed down.

Besides keeping it clean, our hardscape seal service also keeps the color of the surface. Even the natural colors of stones can be preserved with proper sealing. That's why our company strongly recommends sealing the hardscape after installation.


Tested Hardscape Clean and Seal Services
Hardscapes were designed to not only be functional, but to improve the overall aesthetics of a landscape as well. But, those purposes will be defeated without proper maintenance.

Hardscape clean and seal services are two of the most basic maintenance jobs. These two will work out as long as they're performed by trained and experienced professionals and with the use the correct machines and cleaning supplies.

With Dreamscape, we have all the manpower and supplies needed to get this job done. No matter how messy the surface is, we'll never leave it without making it looking brand new since it is our mission to please every client that we have. This is exactly why our hardscape clean and seal service is among the most recognized in Florida.

We Provide Services to the Following Cities and Towns in FL & AL: