Irrigation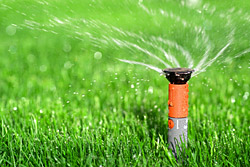 Proper irrigation in any landscape is necessary to keep it looking lush and green. Conversely, improper irrigation installation can lead to excessive wastage of water, which is neither good for your plants nor for the environment.

Moreover, over irrigation only leads to two things: either the water goes below the crop root zone, or it simply falls off to lower places of the landscape, eroding the topsoil, nutrients, and fertilizers. When this happens, plants will wither and grass roots will rot, leading to the overall deterioration of your landscape. This may also pose a hazard for the environment since the chemicals in fertilizers will mix with groundwater or other bodies of water such as rivers and lakes.

This is the reason why most people rely on Dreamscape for their landscape's irrigation installation. Our experts know that the key to proper irrigation requires efficient planning from assessment to installation.

First, we assess the needs and requirements of your landscape—its size, shape, type of soil, the plant varieties, and scheduling. By doing this, we can recommend the correct type of irrigation system that best suits your area so that your landscape will get the right amount of water at the right time.

If you don't have a landscape yet, let Dreamscape do it for you. By hiring our services, we can incorporate efficient irrigation in the landscape design, thus saving you a great deal of cash, time, and effort in the process.


Types of Irrigation Systems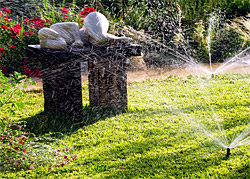 After the assessment, Dreamscape will suggest the best irrigation system that will be most beneficial for your landscape. Accordingly, here are the irrigation installations that we can do depending on the results of our evaluation:


Ditch irrigation. Canals are dug around the crop area and water flows from a central pumping station to be distributed in all areas with ditches.


Terraced irrigation. As this type is labor intensive, its use is limited to mountainous, hilly or steep areas where land is cut to create steps so that water naturally flows.


Drip irrigation. Delivers water to each plant in a dripping motion. This has been found as the most efficient in terms of water usage and conservation. Studies report that this system only uses half the amount of water needed for irrigation. This is the best option for commercial nurseries.


Sprinkler system. This irrigation system uses spray heads to distribute water within a specified area. It may be built overhead or on permanent or pop-up risers. This is commonly used for small residential gardens.


Rotary system. Bigger landscapes will benefit most from this type as it can water areas within 30 feet. It distributes small amounts of water for longer periods of time.


Efficient Irrigation Installation
When it comes to installation, you can be assured that Dreamscape only uses the right products, the best tools and equipment, and skilled people who can guarantee an efficient irrigation operation from start to finish.

We have been providing excellent services to residential and commercial property owners who have been more than just satisfied with our performance. We would love to extend the same quality of services to you. Please contact us now for your inquiries and free assessment.

We Provide Services to the Following Cities and Towns in FL & AL: