About Tremron Group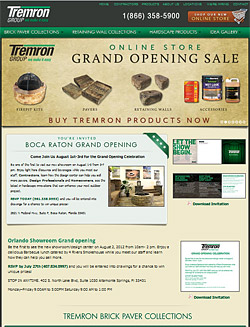 www.tremron.com

Tremron Group is the largest privately-owned paver manufacturer in the Southeast. Headquartered in Jacksonville, the company was founded in 1992 and has plants in Jacksonville, Miami, Arcadia, and Lakeland, Florida.

Tremron Group is proud to offer excellent customer service, competitive prices, unsurpassed quality and one of the easiest and most seamless selection, ordering and delivery processes in the industry.

We are a leading manufacturer of concrete pavers, concrete remodeling pavers, wall systems and green products. We also import and distribute natural stone.

Tremron Group is more than a hardscape manufacturer. We are a diverse team of individuals committed to serving our market with unparalleled customer service and durable, reliable hardscape products.

We Provide Services to the Following Cities and Towns in FL & AL: