Fencing
Our expertise in the field of landscaping and property improvement makes us the go-to company of most property owners from Panama City Beach and other Florida cities that we serve. One of the reasons why we are their top choice is our wide range of offered services. With us, they don't have to hire several contractors to work on their various property improvement projects. We can work on landscape installation, hardscapes, water features, outdoor living spaces, and even fencing projects in residential and commercial properties.


The Right Contractor for Your Fencing Project
Choosing the right contractor for your fencing project is a little bit tricky since there are a lot of contractors in Florida that offer similar services. Most of them will guarantee quality work and outstanding results, but not all of them can deliver what they have promised.

To be sure that you are hiring a competent and reliable contractor, only choose a company with decades of experience in property improvement like us at Dreamscape Landscaping & Irrigation, LLC. Whether your project involves building a perimeter fence for an entire property or just installing a fence for a small garden, we have the required skills, tools and equipment, and logistics capabilities to complete the job.


Fencing Materials That We Can Work On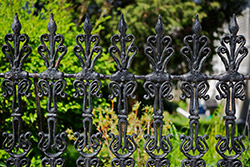 Versatility is another advantage of our company over other contractors in the areas we serve. We can work on different kinds of fence materials. In fact, our design and build teams have already installed and completed numerous fencing projects in Panama City Beach and surrounding areas. These are proofs that we have the capabilities to work on these kinds of projects.

We can use any of these materials:


Wood. Wood fences are still preferred by some property owners because of their classic and elegant look. If you choose this kind of material for your property, we will only use premium quality wood. Whether you want us to build a picket fence or a customized wood fence, we have woodworkers who can create your dream design and install it using the right type of wood. We use cedar, redwood, spruce, pine, or fir.


Vinyl. This is a cost-effective fencing material and can be installed easily. It is also available in a wide range of designs and sizes, so choosing the perfect vinyl fence for your property will be a breeze. Our vinyl fences are guaranteed of premium quality and only sourced from our trusted suppliers. Some of your choices include picket and solid privacy vinyl fences.


Aluminum. If you want a sturdy fencing material, opt for aluminum. We can install aluminum fences for your pools or garden areas. We also recommend this material for security fences. Our commercial grade aluminum fences come in various designs, colors, and sizes.


Custom ornamental metal. Our custom-made ornamental metal fences are not only exquisitely designed but also built to last a lifetime. We highly recommend this type of fence for property owners who want to improve the aesthetics of their outdoor areas. This is also perfect for properties that require reliable and durable fences.
Call the Experts in Fence Installation
If you hire us, you are assured of quality installation regardless of the type of fencing materials we use. We have skilled installers, complete tools, and partner suppliers of premium grade products and materials.

Call Dreamscape Landscaping & Irrigation, LLC today at 850-258-3800, so we can discuss your plans and project requirements.

We Provide Services to the Following Cities and Towns in FL & AL: