Outdoor Kitchen & BBQ
Florida offers lots of beautiful places ranging from forests to beaches. But, there is no need to travel far from home if it is the perfect place for an outdoor activity. You can have a relaxing and entertaining day by just plunging into the pool or cooking your favorite food in the outdoor kitchen & BBQ. No need to look any farther, too, because Dreamscape can build that special escape for you.


We Make Your Dream a Reality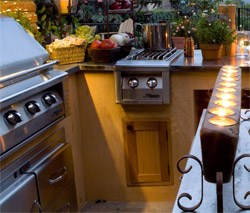 It is a fact that many landscape contractors provide a myriad of services in developing outdoor living spaces. It may range from creating patios, pools, gazebos, and outdoor kitchen & BBQ. But what makes us different is that we will help realize your dream outdoor living space with the specifications that you want and within the budget that you set.

With our help, the dreams of many Florida homeowners have now become a beautiful reality. See some of them in the Portfolio page or if you have time, you may also visit the actual sites we're working on to see our workmanship.

Another reason why we are your best option in creating your dream outdoor kitchen & BBQ is our complete certifications, licenses, and insurances to render legal and risk-free landscaping business in Florida.


Outdoor Kitchen & BBQ Recommendations
Dreamscape offers a wide variety of landscaping services besides designing and installing outdoor kitchen & BBQ. With such variety, there is no limit with what can be done. While others simply set up the pavers for the kitchen floor, our company can build a completely furnished kitchen that has all the conveniences of its indoor counterpart.

We, of course, highly recommend paving the ground for a clean cooking and dining experience. But there must be comfort for the cook and the guests especially from the scorching heat of the sun. A pergola-inspired roof will be the elegant partner of an equally elegant paved surface.


Pre-made or Custom
Our clients have the freedom to choose between pre-made outdoor kitchen & BBQ or opt for a customized design. The pre-made ones are easier, faster, and cheaper to install, while the custom-made will have a unique character that's truly yours.

No worries if you don't have any ideas yet. We have the most creative designers ready to help you. They are also skilled to making the most of any space, be it too small or too big.


Outdoor Kitchen & BBQ Amenities
Experts recommend that outdoor kitchens & BBQs be located as close to the house as possible. This way, it will be easier to use the indoor appliances for the outdoor convenience. But this is not necessary if your outdoor kitchen has all the amenities that a full-pledged indoor kitchen offers, such as: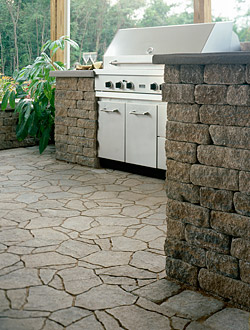 Oven
Side burner
Vent hood
Dishwasher
Refrigerator
Sink
Island
Pizza oven
Grill

These appliances and amenities will be added to the four functional zones of an outdoor kitchen & BBQ namely the hot zone, cold zone, wet zone, and dry zone. Having all these will be the ultimate statement of your elegance. However, integrating them elegantly will be quite a challenge.

But, don't worry about that. Dreamscape will help you from designing to installation and even maintenance of the soon-to-be new favorite party hangout of family and friends.

Call us. Better yet, visit our office and let's talk about this exciting plan to make your landscape more functional and fun with outdoor kitchen & BBQ.

We Provide Services to the Following Cities and Towns in FL & AL: