Bubbling Pots
Like all water features, bubbling pots do not only add beauty to your landscape. Scientists have proven that the movement and sound of rushing or gurgling water have therapeutic characteristics that can soothe a troubled mind and calm a restless body.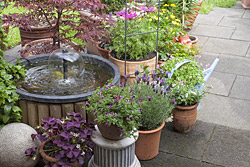 Our attraction to any water feature stems from our need for it. It is apparent in how we enjoy the cascading movement of the waterfalls, the gushing sound of a fountain, and the calmness and serenity we feel as we stare at a pond, river, or stream.

This is the reason why a lot of home and commercial property owners have water features such as waterfalls, ponds, streams, and bubbling pots installed in their areas. They know what these man-made creations can do for their landscapes.


Versatility of Bubbling Pots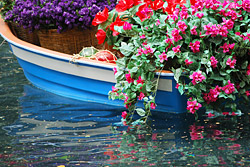 Bubbling pots are truly delightful water features that give color and life to any landscape. Originally used to decorate small landscapes and even the interiors of apartment units, they are now utilized even in huge landscapes.

Dreamscape knows that placing bubbling pots in strategic areas of your landscape enhance its aesthetic value as well as provide entertainment to anyone who sees them. Bubbling pots can also give instant diversion for hyperactive children as they stare in amazement at the never-ending bubbling water and the sound that they make.

Bubbling pots are best placed in: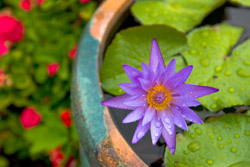 Main entry. Place them near the front door and they will definitely elicit satisfied smiles, even oohs and ahhs from your mesmerized guests.
Outdoor kitchen. Placed systematically, they can capture and reflect the flames from the fire pit, hence giving it a magical, glowing effect.
Beside benches or seats. Sit beside a bubbling pot, and you will be mesmerized with the continuous bubbling of water, turning your boring moment into a relaxing and refreshing one.
Tabletops. Place them on tables and you will have a charming centerpiece.
Creating Bubbling Pots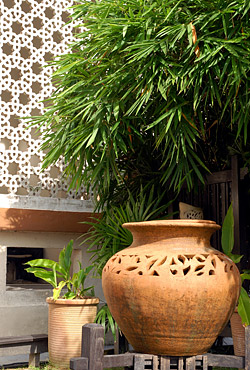 Some people believe that anybody can make bubbling pots since they look simple and only need ordinary tools and equipment such as drills, pumps and electric cords. On the contrary, creating efficient and long-lasting bubbling pots require a certain degree of technology and expertise. You should have the proper tools and know how to use them too. Improper use of tools may lead to breakage of the pots and even electric shock.

But, why do it yourself when Dreamscape has trained people who can install bubbling pots safely and efficiently? Our people have years of experience and undergone intensive training on working with different kinds of water features.

As soon as we finish assessing your landscape, we will tell you what color of pots should go in a certain area, the size of pots in another, as well as the number of pots needed for your landscape.


Our Wide Selection of Bubbling Pots
Dreamscape has all kinds of pots ready to be transformed into bubbling pots anytime you desire. Our pots are available in different sizes and colors and are made from the best materials. We also have durable pumps and a wide range of accessories that will best fit your landscape.

Add life to your landscape now. You can be sure that Dreamscape's highly-trained and reliable experts will only use top-notch materials, state-of-the-art tools and equipment, and unmatched creativity when installing bubbling pots that will surely complement your landscape. Call us today for inquiries.

We Provide Services to the Following Cities and Towns in FL & AL: