Artificial Turf & Putting Greens
in Troy, Alabama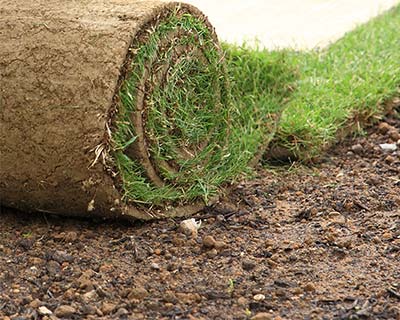 Lush green grass makes a strong visual statement, but maintaining natural grass all year round is difficult, if not unattainable. Therefore, an increasing number of homeowners are opting for artificial backyard grass and putting greens.
Whether you're looking for a low-maintenance lawn or a putting green for mini-golf with friends and family, we have the solution for you. With our synthetic greens, you can stop enviously eyeing your neighbor's lawns and wondering why their yard looks more fantastic than yours.
We at Dreamscape Landscape & Irrigation are one of the front-running companies in Troy, Alabama, offering superior artificial turf and putting green design and installation services.
The Benefits of Artificial Turf
Properly placed high-quality artificial grass helps both the owner of the property and the ecosystem in several ways. Here are a few reasons:
Ease of Maintenance - Artificial grass does not need trimming, watering, weeding, or fertilizing. It requires little upkeep to ensure it remains excellent.


Improves water efficiency - Whether you reside in a dry climate or want to save water, consider installing artificial grass, which needs no watering. You can even take a four-month trip without having to worry about the state of your lawn.


Perennial Greenery - You never have to worry about yellow areas because artificial grass never withers or dries. Your lawn will stay immaculate whether it's a snowy winter, a scorching summer, a wet spring, or crisp autumn.


Reduces Carbon Footprint - Studies reveal that lawns use ten times the number of pesticides as plantings and consume 60% of available water. You do not have to make environmental sacrifices to have a beautiful yard. Artificial grass not only conserves water but also eliminates the need for pesticides.


Durable - Artificial grass is designed to endure high levels of foot activity. This aspect makes it suitable for highly trafficked locations, such as sports grounds.


Long-lasting - Your artificial grass lawns will survive for numerous years without needing maintenance or replacement.
High-Quality Artificial Grass Installations
We have years of expertise installing artificial grass. Having laid tens of miles of artificial grass, we know that installing these lawns involves the strictest preparation and implementation. There are steps to follow, including stabilizing the ground, constructing the sub-base, laying the grass, and seaming.
As a result, we take the long and appropriate route, never cutting corners in our work, so you get excellent quality in your project.
Robust Artificial Putting Green Installations
We can assist you in improving your golf game without requiring you to leave your office or residence. We build high-quality putting greens that replicate the feel of a tournament experience. With putting greens in the quiet of your backyard, you can practice your short game and putting whenever you want. Not only are these spaces excellent for practicing, but they are also great for entertaining guests.
Given the fact that artificial putting greens don't need watering, weeding, fertilizing, or mowing, you can devote more effort and time to perfecting your game instead of worrying about grass upkeep. You'll undoubtedly appreciate the sight and feel of natural grass all year long with no maintenance.
Cost-Effective Artificial Turf Installations
Dreamscape has installed superior artificial grass for many years and put greens in and around Troy, Alabama. We are known for our high-quality services at cost-effective pricing. Regardless of the space, if you want artificial grass on your residential or commercial property, we can help.
For more details about our superior artificial grass and putting green installations, call Dreamscape Landscape & Irrigation at 850-258-3800. You can send us your requests and queries via this Online Form, and one of our experts will contact you soon to discuss your requirements.
We Provide Services to the Following Cities and Towns in FL & AL: