Landscape Lighting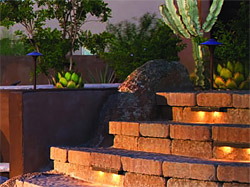 Many Florida homes radiate an enchanting beauty at night because of the landscape lighting installed in their landscapes. These landscape lighting installations enhance safety, plus they provide an added curb appeal on the property.

However, not all landscape lighting in Panama City and other areas in Florida are installed attractively and professionally. Some of them display evident lack of design knowledge merely because they were not planned by experienced professionals.

Believe it or not, if you want to maximize the use of landscape lighting, you need to hire certified and trained people to perform the landscape lighting installation.

Turn, then, to a reliable landscaping company like Dreamscape. You can trust us in designing and installing landscape lighting anywhere in Florida. For one, we use modern landscape lighting techniques to achieve a dramatic effect for your garden. We also employ only highly skilled people to guarantee positive results.


Best Areas to Install Landscape Lighting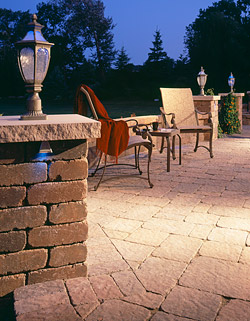 To achieve well-designed landscape lighting, the lighting fixtures should be installed in the proper spots of the landscape. Some of the prominent spots where it can be creatively installed are on outdoor kitchen, pool and pool deck, pergola, gazebo, and water features.

But, to make your landscape even more outstanding, we also install the lighting fixtures on the other less prominent spots in your landscape to make them more attractive. For instance, we can put some lights on trees, foliage arrangements, and flower groupings.

Lights can also be placed at the base of the windows such as in a planter box to create a visual appeal and increase safety, too. Our landscape lighting installation service will give you the confidence that the proper spots of your garden will be well-lit to make them glow at night.


Types of Outdoor Lighting to Use
Knowledge on the design and lighting technology is very important when performing landscape lighting installation. These are the reasons why our team is properly trained on this aspect.

These lighting fixtures come in many types and each of them is designed for a particular purpose. To achieve the best result for your landscape, every type of landscape lighting should be used according to intended purpose.

Some types of landscape lighting fixtures that we commonly use are:


Uplighting. This creates focal points and demands attention by directing the light upwards.
Downlighting. It directs the light downward so this is usually used to highlight some landscaping features below. This is also used in walkways and recreational areas to enhance safety.
Accent lighting. This brings additional cadence so this is used to emphasize a specific feature, object, or area in a landscape.
Cross lighting. This illuminates a particular design element in a landscape and reflects a three-dimensional perspective.
Skilled Landscape Lighting Installers in Florida
The proper use of the different types of landscape lighting fixtures combined with modern techniques will certainly bring out the best sight in your garden. Dreamscape has an access to quality products so our company can guarantee you the best results.

Moreover, our team is composed of competent landscape designers and installers who are certified and qualified to do landscape lighting installation. You surely can rely on us in transforming your landscape into something magnificent. So give us a call today to inquire about our top notch landscape lighting services.

We Provide Services to the Following Cities and Towns in FL & AL: