Pergola & Woodwork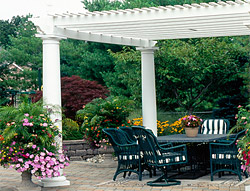 For years, Dreamscape has been providing top notch and value-for-money landscape design and construction services to clients all over Panama City, Florida and neighboring cities.

Specifically, Dreamscape has been creating exceptionally functional and stunning outdoor living spaces that include building awe-inspiring pergolas and other woodworks. Such hardscape features not only provide beauty to any landscape, but also shade to those who want to take a walk along a property.

We have the necessary experience, tools and equipment, and skilled manpower to carry out such project efficiently and with positive results. Our various landscaping projects never fail to turn a drab-looking property into an eye candy worthy of everyone's admiration.


Adding Function and Class with Pergola and Woodwork
Aside from a pergola, your outdoor will be more classy and functional if there is an exquisite woodwork in it. Such woodwork would be very helpful in creating a variety of look and mood that would add more aesthetic to your property.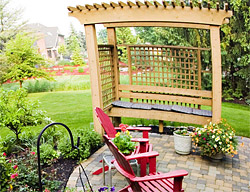 Woodwork is an important aspect of landscaping. For one, wood exudes an earthy, all-natural feel that would make anyone feel like communing with nature. Certain woodwork, those that have exquisite and intricate details, are also proven to make a property look more pricey, and can come in handy when you're planning to sell your property.

There are simply some structures in the landscape that are best installed with wood. For example, our pergolas are made of high quality hardwood that is meant to last for years. These are usually placed in walkways to provide cool shade especially during summer. With an exquisitely-designed and -built pergola, you can create various themes like an Italian vineyard, a Tuscan village, or a French villa.

A pergola is usually built to connect pavilions, serve as a building's extension, or just provide shade where the sun is usually shining directly. Pergolas are usually made of concrete or wooden posts with overhead supporting trusses where vines or roofs could be attached to provide protection from the elements.


Woodwork Experts
Dreamscape is also expert in other woodwork projects such as wooden decks, wooden bench, gazebos, arbors, trellises, fences and others. These woodworks provide a dash of elegance and variety in the landscape with their exquisite details and construction. Simply put, any plain looking landscape element could instantly look more exciting by just infusing some nicely-done woodwork.

The good thing about Dreamscape is that we only use properly treated hardwood to ensure its durability so you could enjoy its benefits for years to come. Moreover, we have skilled people to do the job. These highly-trained artisans have years of experience creating some of the most exquisite woodwork and pergola that you can find anywhere.

So if you're looking to have a pergola or a nicely done woodwork, look no further. Dreamscape is the best full service landscaping firm servicing Panama City and other areas in Florida. We warranty every facet of our work to give you peace of mind and we stop at nothing to provide our clients with the exact results that they need.

Call us today for inquiries on our pergola and woodwork services.

We Provide Services to the Following Cities and Towns in FL & AL: