Ponds & Waterfalls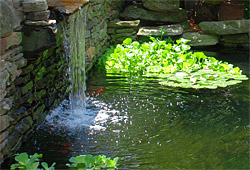 Ponds and waterfalls can transform a lush and green landscape into a breathtaking paradise where you and your loved ones can have quiet moments together, relax, and unwind. Even your children and your pets will definitely enjoy being near these water features.

Accordingly, intensive planning and careful installation are required to turn your dream water feature into a reality. Dreamscape can assure you that only the best possible modern tools and equipment will be used for your ponds and waterfalls from start to finish, thereby ensuring positive results.

As with all our other services, we need to survey your area and make a proper assessment in order to make our recommendations as to the needs and requirements of your landscape.


Our Pond Creations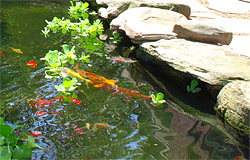 Dreamscape's well-designed ponds are small ecosystems by themselves. This means that all the components of this water feature sustain each other in order to survive, eliminating the need for costly chemicals and procedures to keep it functioning well.

To sustain harmony in this ecosystem, essential components must be present. We ensure that our pond creations are composed of these significant elements:


Pumps and plumbing prevents the water from stagnating and maintains the required oxygen levels for plants and animals to thrive.
Filters, both mechanical and biological, are used to ensure that the surface is free from harmful debris and also to give a natural habitat for good bacteria.
Rocks and gravel make your ponds look more natural. They also serve as anchors for the roots of your aquatic plants.
Fish are natural pond cleaners. They eat mosquito larvae, insects, and other wastes that may be harmful for your ponds.
Aquatic plants do more than just complete the "natural look" of ponds. They are nature's best filters as these plants feed on the excess nutrients of the pond so that algae won't thrive.
Bacteria thrive on the ammonia that come from the waste of fish and convert it to nitrogen for the use of the plants.

Designing and building the pond may seem too easy, but without the proper training and techniques, your dream pond may just turn into a nightmare.


Stunning Waterfalls
As opposed to ponds, constant movement of water characterizes waterfalls. As it is, nothing beats the sound of a rustling waterfall. It calms the senses, and as studies have proven, can also be beneficial for man's health.

Waterfalls are best installed in ponds, pools, and even streams because the constant movement they provide raises the oxygen level of these water features. When this happens, the aquatic plants and animals within them will become healthier, while algae will not be able to thrive. If you lack the space for a pond or other water features, Dreamscape can also build a pondless waterfall for you.

Our beautiful waterfalls are simple joys to behold. We use different kinds of stones and materials to make these water features more stunning and dreamlike. The sound of water cascading over the rocks and stones can calm the nerves and provide a much-needed relaxation.


We Build your Dream Ponds and Waterfalls
Ponds and waterfalls are essential components of your landscape. No landscape can ever be complete without them.

Allow us to build your own personal paradise in your Florida home. At Dreamscape, we turn your dreams into reality. Call us today.

We Provide Services to the Following Cities and Towns in FL & AL: